︎
There is no better way to describe the years from 2010 - 2019 as The Streetwear Decade. Tumblr and Instagram gave rise to a whole new way of socially-acceptable dressing and style, and for a while it seemed like everyone under the sun had a brand that made graphic t-shirts (I made graphic tees too, the irony is not lost on me). Thanks to social media, we all started to care more about what all aspects of our lives said about us and the values we're messaging to the world at large. Everything was a statement about who you are, what you care about, and what you believe - and streetwear was an easy and direct way to communicate those messages.

The streetwearification of everything and everyone was what made me start thinking about what I saw as the next frontier of streetwear and streetwear culture - furniture. More and more people posted their homes on Instagram, even just in the background, which meant more and more people had to be conscious of whether or not to show their Ikea couch or the corner of their Noguchi table. Just like your outfit and the brands you wear, furniture was becoming a very public means of expressing your values and interests.

Of course there's always been a flirtation between streetwear culture/brands and furniture. Supreme collaborated with Artek and Knoll, Modernica made Murakami tables for ComplexCon, and I consistently see vintage Herman Miller gear at Procell - but nothing cemented the relationship publicly like Virgil Abloh's Ikea and Vitra collabs - the latter of which featured an Antony Chair originally designed by Jean Prouvé realized with acrylic instead of wood.

And though those items and collabs were all interesting, they all felt a little flat to me - just another colorway or fabrication of something already out there. I started thinking about how to take something that already existed and really reimagining it through the lens of streetwear - thinking about what that would look like and how it would come to be.
Enter the Flat Pack Jeanneret.

The iconic Easy Chair that Pierre Jeanneret designed for Chandigarh seemed like a perfect subject to flip. The originals are increasingly rare and only exist in finite numbers thanks to skilled artisans who made them by hand out of local materials. By changing everything except the silhouette of the chair itself - starting with the the color, the material, and the assembly process of the piece - I was able to change the context and ethos of the piece entirely.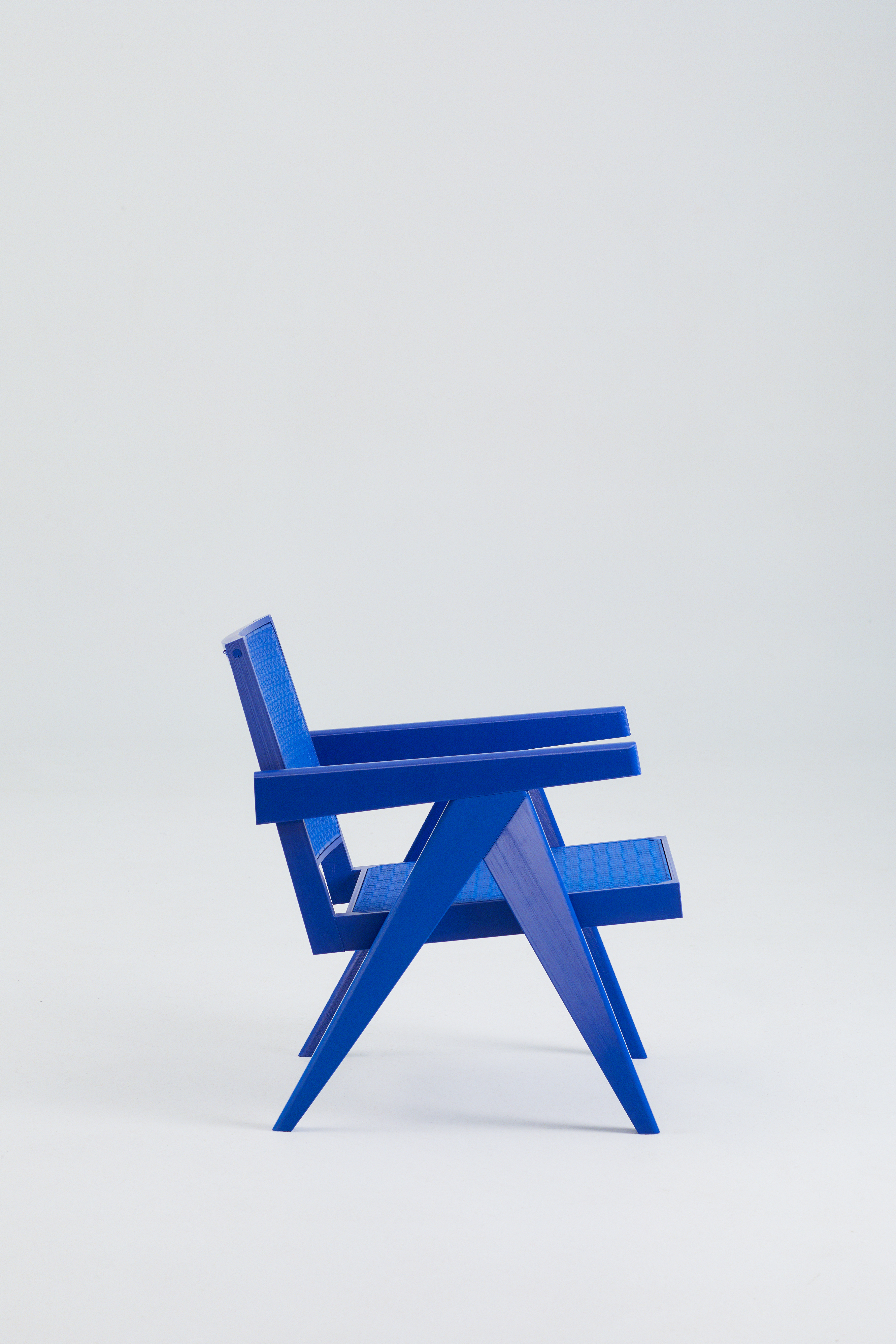 Color
Inspired by International Klein Blue, I wanted to ensure the piece looks unnatural and incredibly vibrant, while also ensuring a level of uniformity and consistency unimaginable with the hand-made originals.
Material
The chair was 3D printed in New York through fused filament fabrication (FFF Plastic). 3D printing with FFF plastic immediately came to mind as the most non-traditional and easily replicable production method available. At the same time, this process decreased each chair's material demands and manufacturing footprint by using an additive process, meaning there was no need to cut away excess material or waste to create the shape. Using 3D printed FFF plastic every single piece of the chair can be identical to each other chair, removing all variation and uniqueness from one chair to another - one of the hallmarks of the originals in Chandigarh.
Assembly
Flat packing is so ubiquitous now across pricepoints and levels of design that there was really no other way for the chair to come together or be delivered - it had to be flat packable. This was the toughest part to engineer, since the original design is meant to be assembled and delivered as one unified piece, but it is well worth it for the feeling of being a necessary element to the creation of your own piece. Hopefully people feel a greater sense of accomplishment in assembling the Flat Pack Jeanneret than stress or aggravation from assembling various Ikea furniture pieces.